What is Odyssey?
Odyssey is a learning DAO on a mission to onboard the next 1 million people to web3.
Web3 matters because it lets people own the upside from their work. Over the next few years, we will see a massive shift in talent from web2 to web3. We're raising 25 eth to create quality web3 learning paths to accelerate this transition.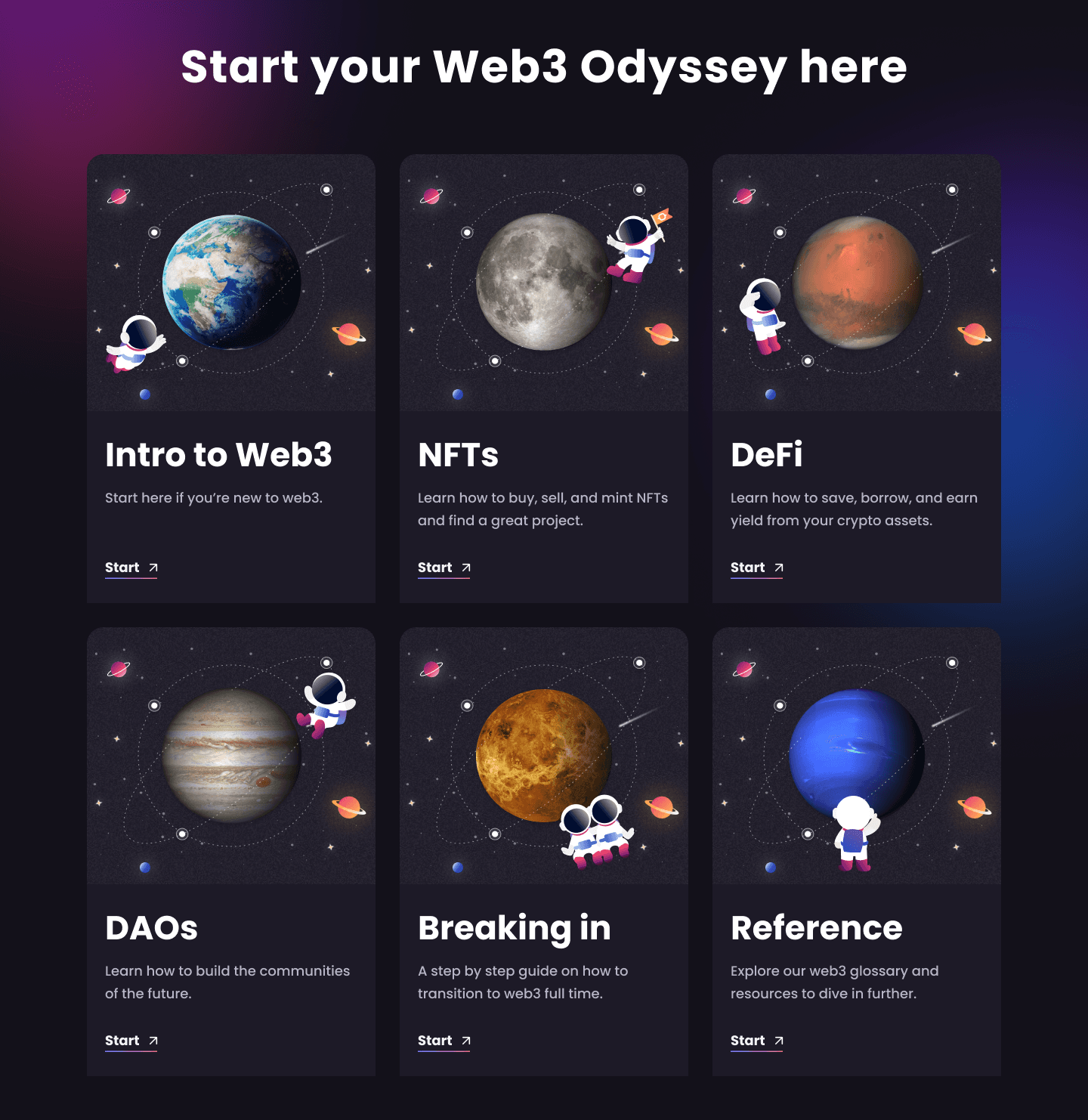 It's much easier to start a DAO than to sustain one. We believe that Odyssey will endure due to our focus, momentum, and values:
1. Focus
We're focused on beginners who are curious about web3. Our goal is to deliver quality "explain like I'm five" learning paths backed by a thriving community. We believe that everyone deserves a web3 onramp that's not fraught with scams and misinformation.
2. Momentum
In just two months, we've created:
What started as a curious beginner's guide to crypto by Peter is now a community effort to provide the best web3 education online.
3. Values
Too much web3 education is paywalled behind token gated communities. We value:
Quality over quantity. We value creating high-quality, 100% free web3 education.
Delightful onboarding. We value guided onramps. No member should feel lost.
Pay it forward. We value giving vs. taking. No member should learn web3 alone.
We also value taking a balanced tone to highlight the pros and cons of this space.
What do I get as a crowdfund backer?
As a backer you get:
1. NFT boarding passes to the Odyssey fleet
We've created limited edition NFTs for backers with the Wanderers team: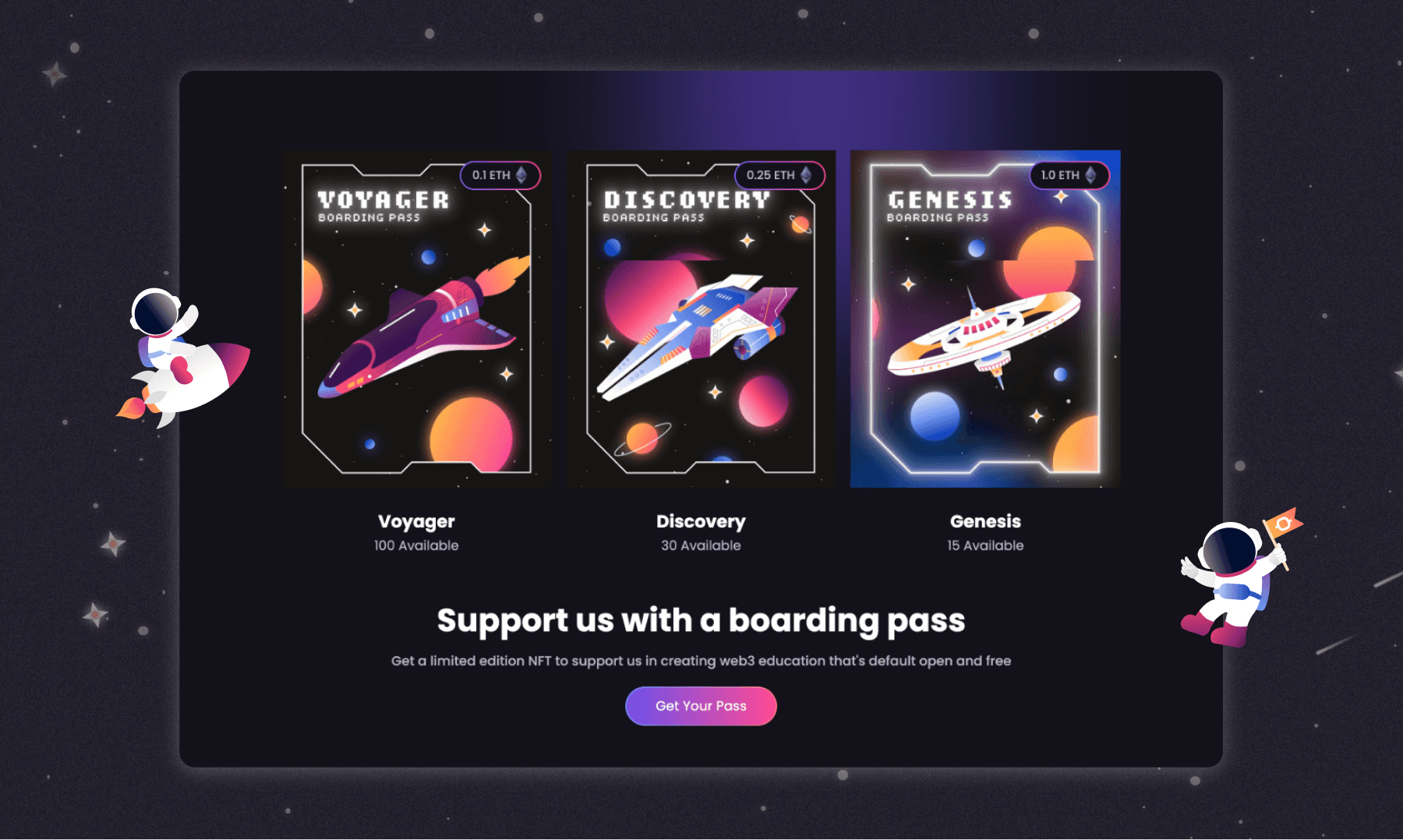 If you're the top backer, you'll also get a special 1/1 NFT created by artist Motionscape:
2. Governance through $ODY tokens
As a backer, you get $ODY governance tokens that you can use to submit and vote on proposals for Odyssey to tackle next. We'll invite you to a private Discord channel to discuss these proposals.
Most importantly, you get the peace of mind from supporting writers, designers, and developers creating web3 education that's default open and free 💫
What will we use the funds for?
We already have a plan and team leads in place to take Odyssey to the next level.
In the next 3 months, we will:
80% of the funds that we raise will be placed in the community treasury. We will use these funds to pay the team leads above and others who make significant contributions to Odyssey.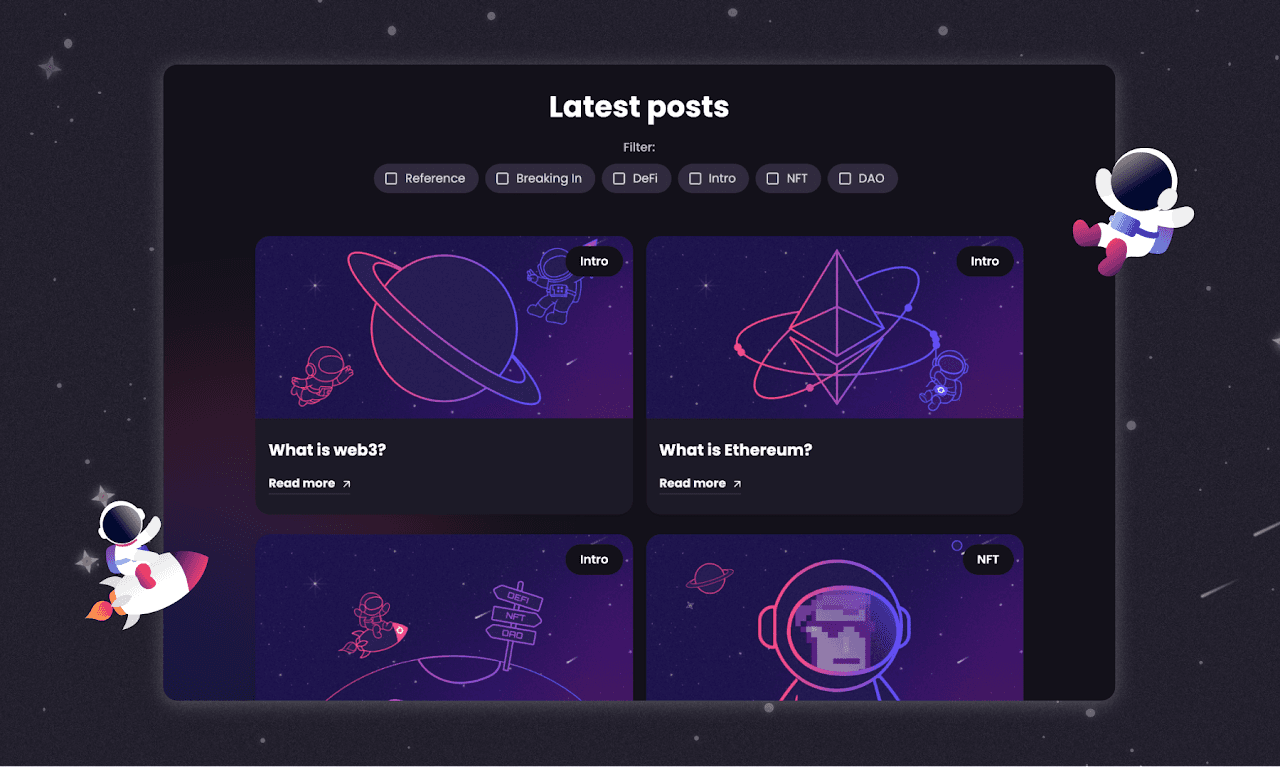 Please support our mission to create high-quality, 100% free web3 education by buying one of our NFTs. DM Peter if you have questions.
You can also visit our website, join our community, and follow our Twitter.